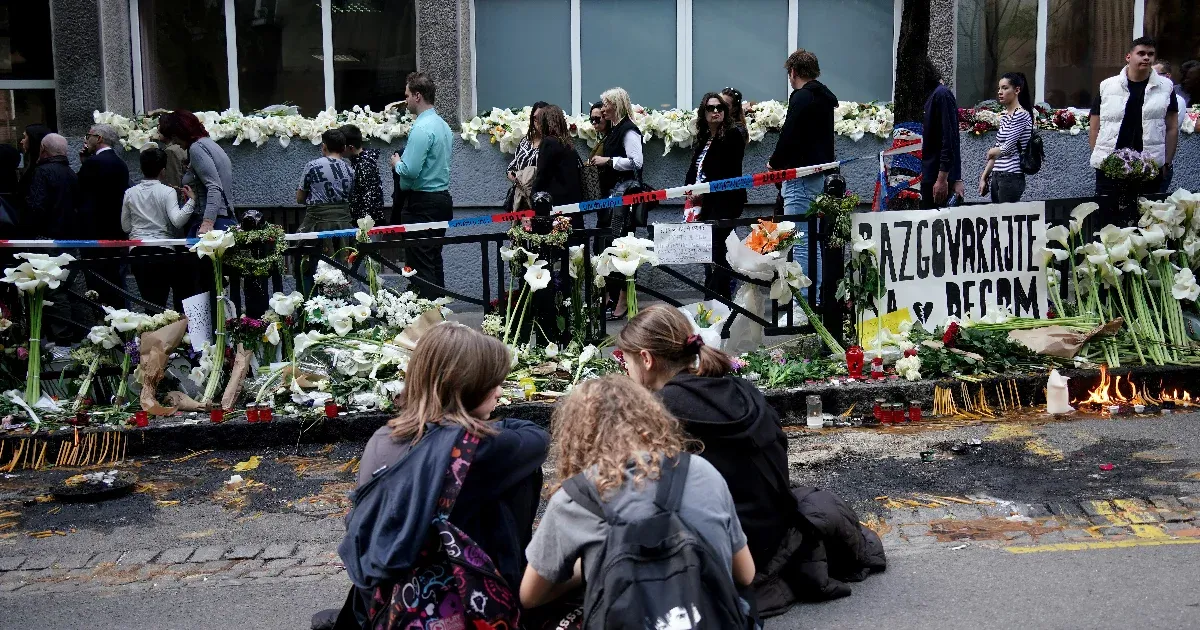 Mourners line up outside Vladislav Rybnikar School in Belgrade, two days after a student shot and killed eight of his classmates and a school guard inside the building – Photo: Oliver Punik/AFP
The 14-year-old daughter of the SCM volleyball coach in Žila was also shot dead on May 3 when Kosta Kecmanović attacked her friends at the Vladislav Ribnikar school in Belgrade. Emma tried to stop Amok Runner, saving many of her friends. Written by Libertatea is based on the Serbian daily Blic.
Emma was buried in the Serbian capital's Central Cemetery on Saturday. Vicar Bishop Hilarion of Patriarch Porphyry, who celebrated the ceremony, spoke of the girl's courage. "It is difficult for me to speak today. We pray to God to give strength to the parents to live a righteous life amidst pain and suffering. He is the soldier and hero of Christ, and it is not by chance that the best fall that we can live through their sacrifice. "We must pray for the boy and his unhappy soul," the bishop began his address at the funeral.
He further recalls Emma standing in front of Amok Runner and questioning him, then telling him to stop so that some of his companions had time to escape.
Hundreds of people attended Ema Kopilski's funeral, including Serbian athletes, representatives of the Zila Sports Club, schoolmates of the girl, but those who did not know the family personally. Dragan Kopilski, coach of Jilahi SCM, said Emma's father held his daughter's beloved teddy bear in his arms the entire time, and classmates who survived the attack bid him farewell with a white flower.
13-year-old Kosta Kekmanovic entered the school building with two guns on the morning of May 3, where he killed a school guard and eight children, and wounded six students and a teacher. Because the student is still there Under 14, cannot be punished. The police announced on Saturday that the accused's father has been arrested and they are recommending his remand.