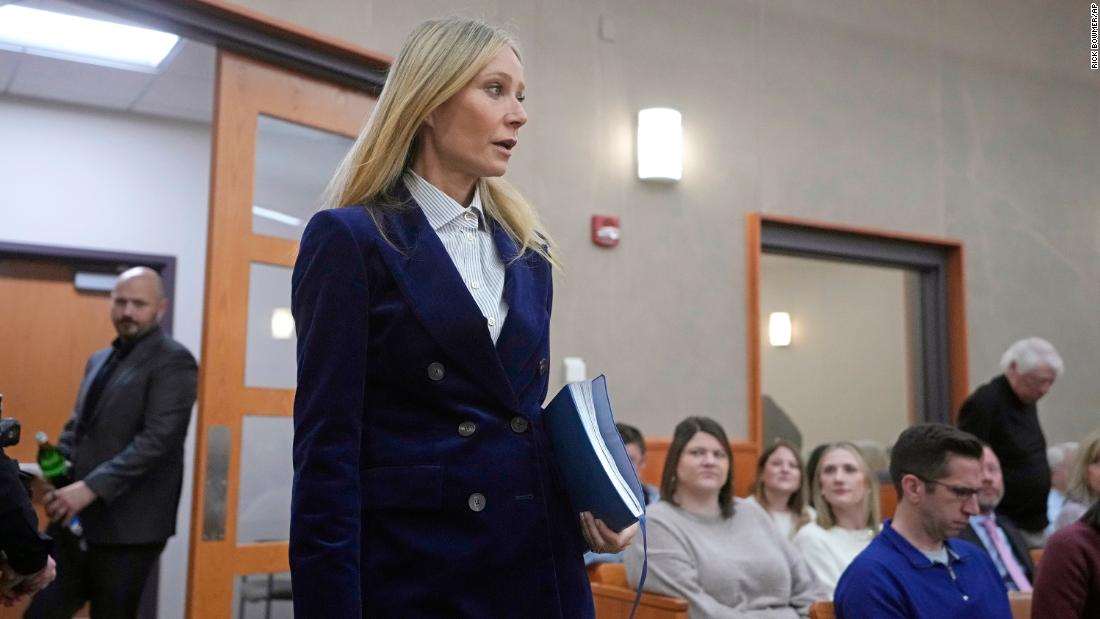 (CNN) jury in Civil trial Caused by a skiing collision now involving Gwyneth Paltrow.
The jury received the case on Thursday. trial It started on March 21st.
Terry SandersonA retired ophthalmologist is suing Paltrow, the Oscar-winning actor and founder and CEO of Goop, over a 2016 crash at the Deer Valley Resort in Park City, Utah. Sanderson is seeking more than $300,000 in damages. Paltrow witnessed causing the collision that left him with four broken ribs and brain damage from a concussion.
Paltrow testified last week that Sanderson skated on. She is seeking $1 in damages, in addition to attorneys' fees, in her counterclaim.
In closing arguments, Sanderson's attorney, Robert Sykes, dismissed claims that Sanderson is seeking fame and attention.
On that day, he said, Sanderson "never came home."
"Part of it will always be on that mountain," he said. "We hope you will help bring Terry home from that mountain with just judgment for the day."
Meanwhile, Paltrow's attorney, Steve Owens, confirmed in closing that Paltrow's case is about right and wrong and that it would be "easy" for Paltrow to "write a check and get it done," but said it would be "a mistake."
He told the jury, "It's really wrong that he hurt her, and he wants money from her."
He later added, "He has the right to be here today, but he has no right to be rewarded for hurting her."
Paltrow's attorney, James Egan, in his part of the closing, again referred to the other side's comments, saying, "Mrs. Paltrow also wants him off the mountain, but she shouldn't be responsible for the cost of it."
The main certificate
Paltrow told the jury that the collision occurred on the first day of a trip to Deer Valley that she was with her two children, then-boyfriend Falchuk, and his two children.
She testified that two skates got in between her skates, forcing her legs apart and that she heard a "snorting noise" when she felt a body press against her back before the two collapsed together.
Paltrow said she did not ask about Sanderson's condition after their collision but claimed she stayed on the mountain "long enough for him to say he was OK" and stand up.
During his testimony, Sanderson repeated the allegations that Paltrow walked in.
"I was hit in the back really hard and on my shoulder blades and I felt it was right in the middle and the fist and stick was at the bottom of my shoulder blades, a serious, serious slap and I've never been hit so hard," Sanderson testified. "All I saw was a lot of snow."
Sanderson has opposed motions he made against Paltrow to take advantage of her fame and fortune.
"I thought, 'I'm not a fan of celebrity worship,'" Sanderson told the jury of knowing she was the other skater involved in their collision.
The jury also heard a number of expert witnesses, Sanderson's daughters, and testimony from ski resort employees. The testimony of Paltrow's two children, Apple and Moses Martin, was also read to the jury during the trial.